Paterson Bell has an outstanding reputation as a law firm which specialises in criminal defence.
We can provide advice regarding any criminal charge and attend police interviews with you. We can advise you prior to police involvement.
If you are being investigated about a crime by the Scottish Police (Police Scotland) or by the Scottish prosecuting authorities, our expert criminal defence lawyers can help you.
Criminal Defence Solicitors for Non UK Nationals
We provide advice about murder, rape, sexual crimes, assault, bribery, fraud, financial crime, theft, drugs offences (importation or supply of all drugs including cocaine, heroin, cannabis, ecstasy, amphetamine, methamphetamine), crimes against the environment, health and safety, maritime/shipping offences, fishing offences.
We can provide full court representation for any crime in any Scottish Court.
All of our lawyers specialise in criminal defence.
The criminal courts in Scotland are at levels depending upon the nature of the allegation. The Justice of the Peace court deals with minor road traffic infringements and minor crime. The Sheriff Court deals with more serious allegations of criminality or statutory breaches. The High Court deals with the most serious of allegations of criminality. We have lawyers who appear in all courts on a daily basis.
Experts in Criminal Defence
We have a team of experts available to us to assist in the investigation and advice regarding any serious criminal allegation. No case is too big nor too small, we understand the fear that any allegation can bring
If you need help with Scottish criminal law, we are here for you. If English is not your first language, we can arrange an interpreter and all documentation would be interpreted into your language.
Paterson Bell Solicitors are also on the Legal 500 list for Recommended Criminal Lawyers in Scotland.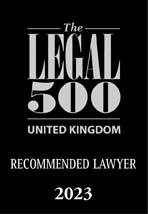 Confidentiality Assured
Please contact Paterson Bell Solicitors in the strictest confidence and we will meet with you to discuss your case.
Contact our Kirkcaldy lawyers on 01592 646600 or our Edinburgh lawyers on 0131 225 6111 or email: crime@patersonbell.co.uk for an initial free consultation over the telephone.