Representation for those charged with Theft Related Offences
If you are accused of theft or charged with a theft related offence, Paterson Bell Solicitors can help you. If the police want to interview you about an accusation of theft, we can advise you about police questioning. Theft is a crime of dishonesty and can have a significant impact on your current employment, future employment and many applications to financial institutions. We understand the importance and the consequences of theft allegations.
Facing charges or questioning as a result of reported theft?
An act of theft deems that a possession of value has been taken from another person with the intention to permanently deprive them of it.
Charged with Theft, Housebreaking or Fraud
Charges of theft or fraud could even include failing to return borrowed items, if there is reason to believe that you don't intend to return them e.g. by missing an agreed date with the owner of the property; or failing to take reasonable steps to reunite an owner with a lost or abandoned possession that you have claimed.
Harsher sentences for theft are reserved for:
Cases where the victim is deemed vulnerable.
Cases where theft has been committed by an organised group or gang.
Cases where the theft involved sophisticated technique.
Cases where the theft involved abuse of a high degree of trust or responsibility
We can advise you about the full consequences of any theft allegation and any potential prosecution.
Experts in Criminal Defence
If you need a defence lawyer for a police interview, we will attend with you day or night and advise of your rights. In many cases, police interviews can be a significant part of your defence. It is crucial you receive the correct advice prior to and during any police interview. We can be there for you anywhere in Scotland.
Please contact us in the strictest confidence and we will meet with you to discuss your case.
Paterson Bell Solicitors are also on the Legal 500 list for Recommended Criminal Lawyers in Scotland.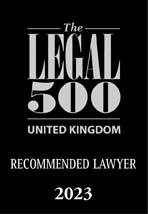 Confidentiality Assured
Please contact Paterson Bell Solicitors in the strictest confidence and we will meet with you to discuss your case.
Contact our Kirkcaldy lawyers on 01592 646600 or our Edinburgh lawyers on 0131 225 6111 or email: crime@patersonbell.co.uk for an initial free consultation over the telephone.